This card was a complete rush job. My brother's wife's parents celebrated 50 years of marriage yesterday and I didn't feel that I could let it pass without some form of acknowledgement. I only found out yesterday morning when my SIL turned up out the blue on my doorstep (she lives quite a distance away) en-route to her parents house. I hope it doesn't look too rushed (I would've loved to have done something a little more detailed, but time was against me).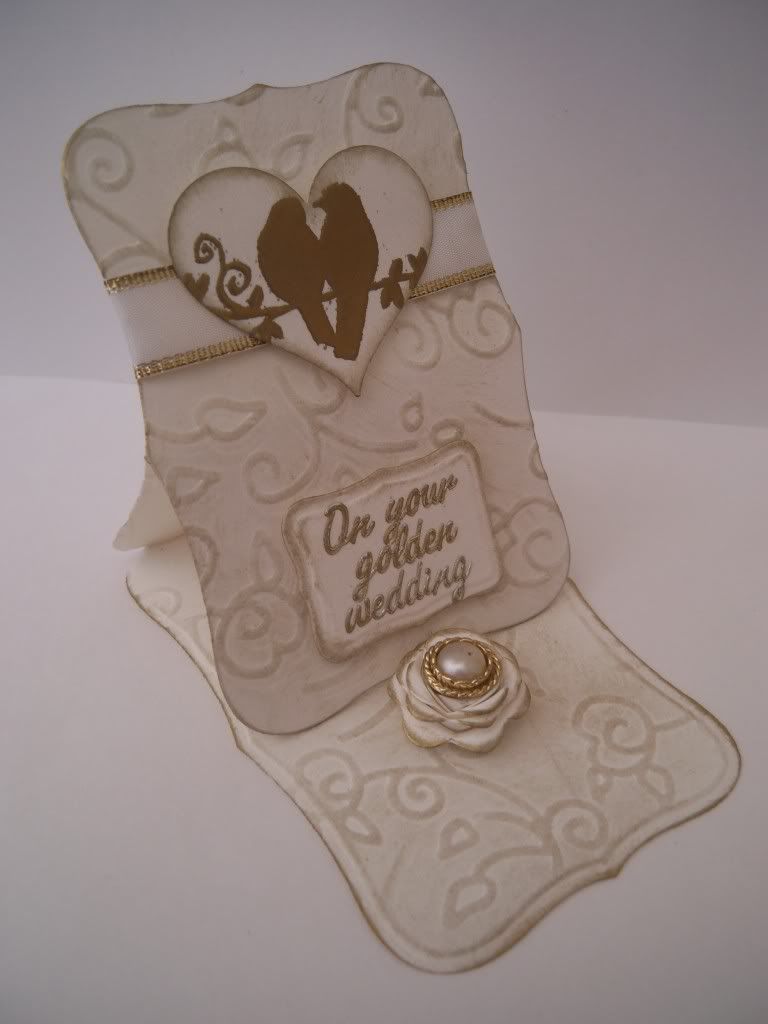 I've used my nesties to create the easel card, I've then embossed the pearlescent card and swiped it over with a gold ink pad. I've stamped the duo of birds and heat embossed them and then punched out the heart. The flower was made using my trusty 3D flower die, I did it a little differently this time and left room for a centre. Unfortunately, I've had to use
peel offs
for the sentiment (shhhh don't tell anyone) as my handwriting today was awful, I didn't have a suitable stamp and I couldn't get a digi stamp to print in gold and the card I was using didn't want to know about heat embossing the digi either!
Tools
Sizzix Bigshot
Nestabilities - Labels 8
Sizzix Texturz Plate
Sizzix 3D Flower Die
Fiskars Large Heart Punch
Heat gun
Materials
Pearlescent card
Gold ink pad
Image - Personal Impressions
Ribbon - stash
Pearl button - stash
I'd like to enter this card into the following challenges:
Pear Tree Designs
- Animals
Stamp with Fun
- Weddings (I hope this still counts)
Everybody Art
- Handmade flowers
A Spoonful of Sugar
- Animals
Alphabet Challenge
- Trees (the birds are sitting on a branch)
Totally Gorjuss
- Flower
Fairy Fun Fridays
- Embossing
Stampin' for the Weekend
- Shabby or Vintage
A Pocket Full of Posies
- Flowers
Our Creative Corner
- Fun with folds
Bunny Zoes
- Vintage
Cowgirls' Sunday Stamp'en Challenge
- Anything goes
Fab n Funky
- What Eva
Gingersnap Creations
- Punches
Incy Wincy
- Celebrate
Really Reasonable Ribbons
- Flowers
Creative Cottage
- Celebrations