I've gone all girly and sparkly today! I've made this card for a friends birthday and she lurveeees the whole bling thing, but isn't into pink.
I decided I'd try out one of the stamps I'd won a few weeks ago from
Cuddlybuddly Crafts
. Then I had the idea of trying a few new things out - Co-ordinations Whitewash Cardstock, sanding embossed card and using my new Martha Stewart butterfly punch. I had heaps of fun ripping, tearing and generally destroying paper and card and then chucking loads of sparkle at it! Here's my creation: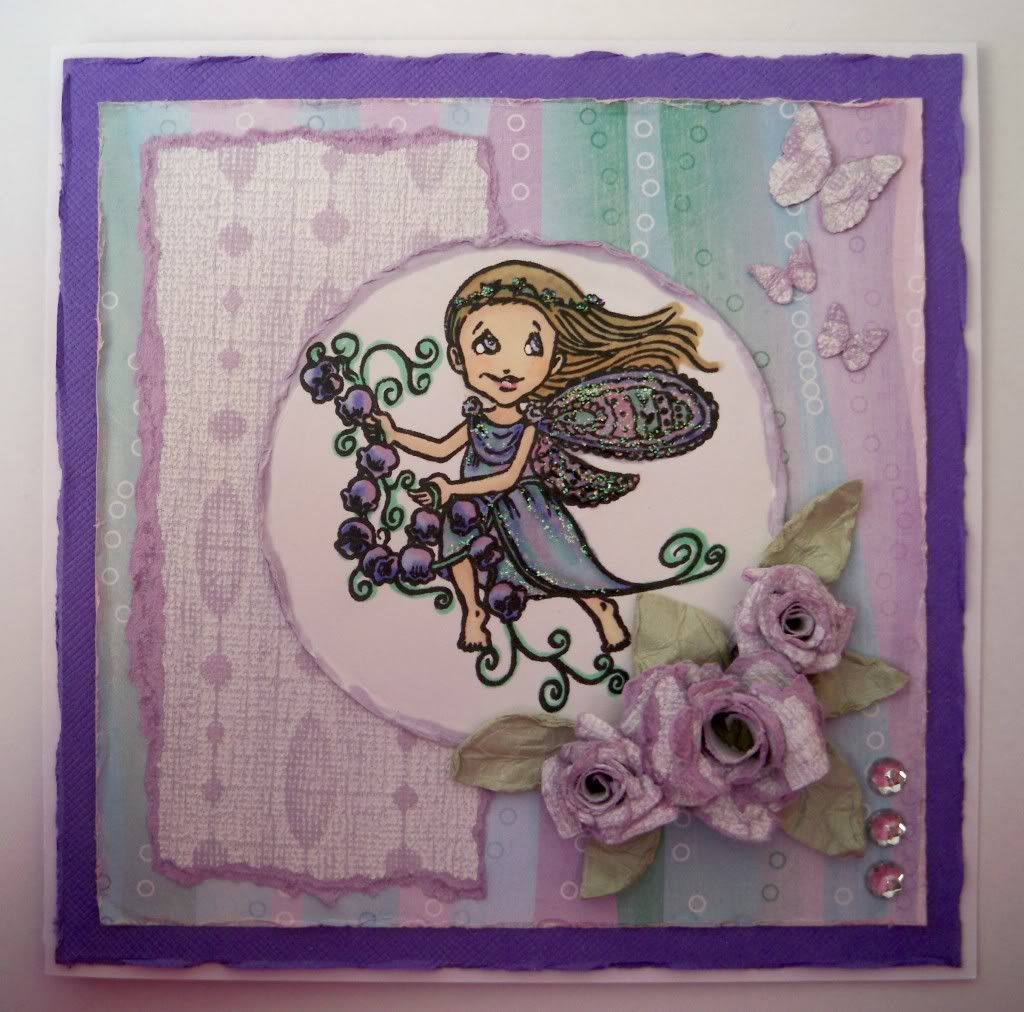 The fairy has been coloured with Promarkers. I've then used 3D glitter glue to highlight her wings and dress. I've distressed the edges of just about everything in sight. The embossed panel has been sanded. The roses and leaves are handmade and have been given the Stickles treatment as have the butterflies.
Tools
Bigshot
Martha Stewart Butterfly Punch
Tweezers
Sizzix Texturz Beadz Embossing Plate
Stamp - Spring Fairy from Cuddly Buddly Crafts
Materials
Card base - Craftwork Cards
White, Green and Purple Cardstock/ BP - The Papermill
DP - freebie in a magazine
Co-ordinations Whitewash Cardstock
Ranger Stickles
3D Glitter Glue
Diamontes - stash
I'd like to enter this card into the following challenges:
Mel's MSE challenge - use Purple/Lilac
I Did it Creations Challenge Blog
- 3D
Allsorts Challenge Blog
- Embossing
Creative Craft Challenges
- Stamp It Up
Crafty Creations
- Shine
Bunny Zoe
- Nice and Girly
Cowgirl's Sunday Challenge
- Anything goes
Shelly's Images
- The Rule of 3's
Digi Doddles Shop's Best
- Anything goes
Kaboodle Blog
- Anything goes with a dash of Purple