Well I've finally done it!!!!! I've jumped into the big bad world of scrapping......I've been meaning to give it a go for a little while, but never quite got round to it, so when the lovely
Choccy
reminded everyone that the current Creative Craftworld Challenge was for a scrapbook layout with Father's as the theme, it was the push I needed. Especially as I've not done a great deal for DH's birthday or Father's Day atm, so this will be a little something for the kids to give him.
Now as with everything new I try I always ask the question is did I enjoy it?? Well I think so would be my answer - I don't think I'm an overnight convert to scrapping!!!!! Whilst I loved looking at long forgotton photos, I found it very time consuming! Also, although I'd thought about scrapbooking, I'd always had in my mind my first one would be of a holiday, so doing something with the theme father's kinda threw me!
However, I'm glad I've done it. The page I've produced is OKish - I'm not thrilled with it, but for a first attempt it could've been worse and I'm sure DH will appreciate it. I'm definately going to be doing more pages as it means that many of my cherished pictures will see light of day instead of sitting in a drawer and hopefully the more I do the easier it will become. Anyway, enough rambling, this is it.................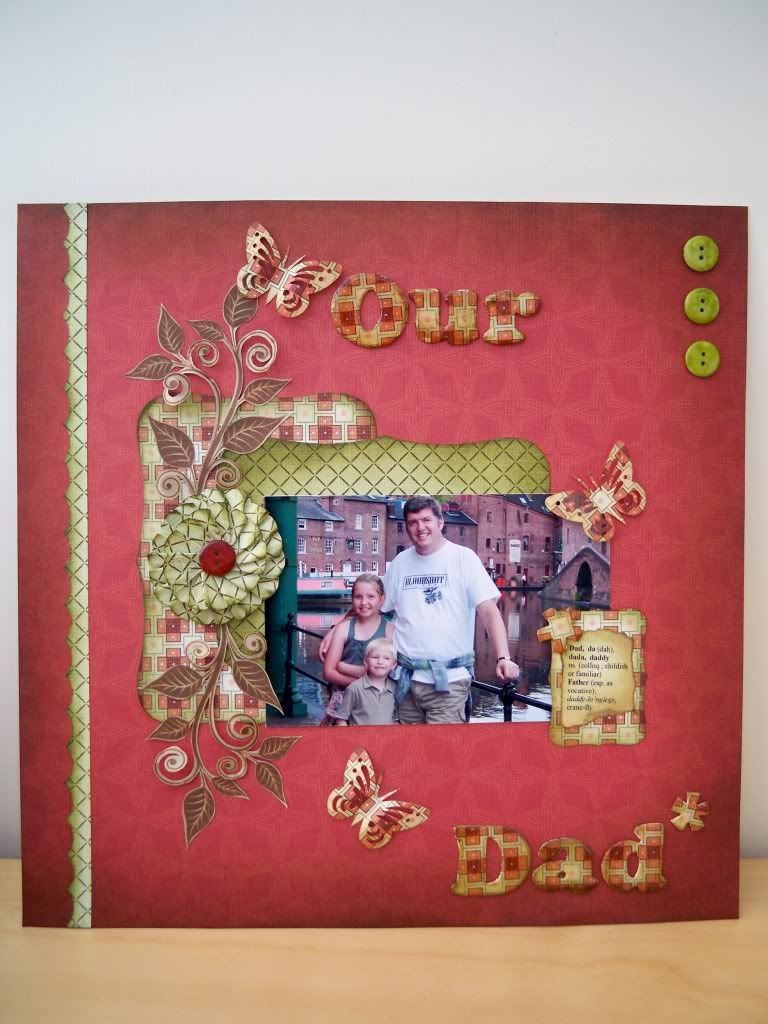 The edges of the papers have been inked with distress inks. The chipboard letters have been covered with paper, inked and then glossy accented. The buttons were coloured with Promarkers. I made the flower and handcut the vines (the link to the tutorial can be found below).
Tools
Bigshot
X-Cut Scalloped Border Punch
X-Cut Butterfly Punch
Spellbinder Nestabilities - Labels Eight
Materials
Papers - Papermania Hampstead Collection
Distress Inks -Forest Moss, Tea Dye
Flowers & Vines Handcut/made from
here
Promarkers - Pear Green & Burnt Umber
Woodware Chipboard Alphabet
Buttons
Glossy Accents
I'd like to enter this into the following challenges:
Creative Craftworld
- Fathers
Sir Stampalot
- Punch It (2nd entry but different project) - border strip is punched as is the edge of the flower
One Stitch at a Time
- Boys to Men
A Spoonful of Sugar
- Floral Delight
C.R.A.F.T
- Father's Day/Men