I've seen lots of cards with paper pieced images lately and have loved the results, so I decided that I'd give it a go. I chose this adorable little rabbit from
Dragons Lair Designs
and for reasons best known to myself decided that I'd decoupage the image as well. For those of you who have been following me for a little while, you'll remember I had a bit of a disaster with some shop bought decoupage and swore I'd never go there again! Well I'm really pleased that I gave it a second chance as I'm fairly pleased with the result and will definitely be using this technique again.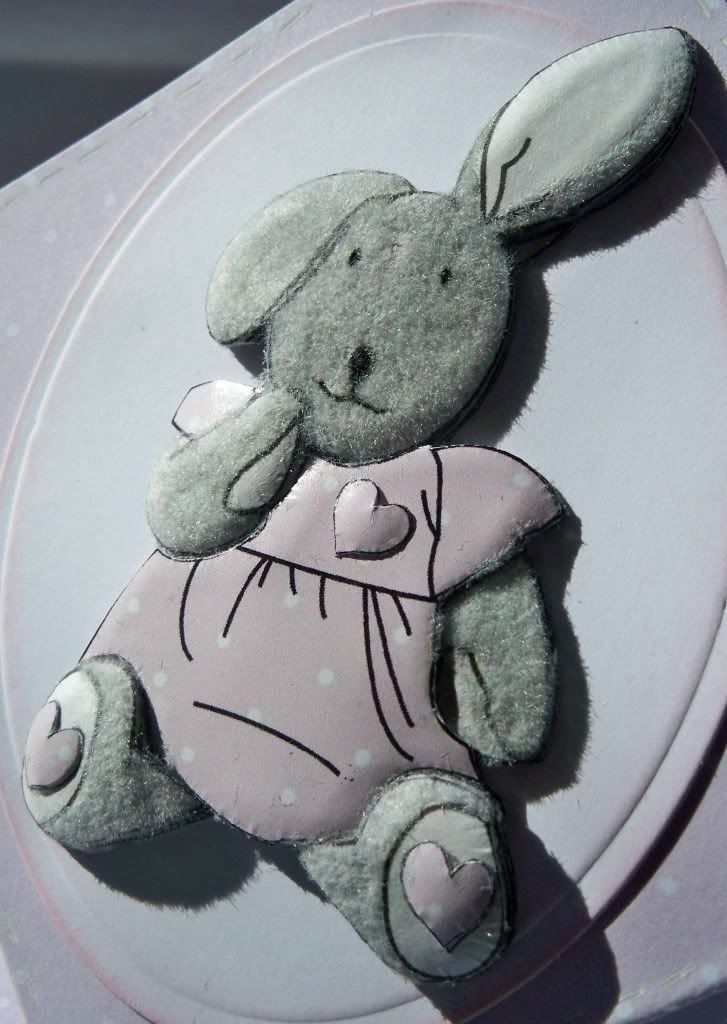 Close up to show fuzziness
I used digi papers for this card and printed them directly onto my card base, which saved a whole lot of faffing (is that a word??) around with trying to glue papers onto a diamond fold base. The cute little bunny as I said has been paper pieced and decoupaged, but I didn't stop there! Oh no!! I found some grey flock that I've had sitting unused in my stash and bunged that on for good measure - (in order for my photo to show this up, I had to take the picture in really strong sunlight). I also added some faux stitching with white gel pen (you need to click on the 1st image and zoom in to see it).
Tools
Martha Stewart Scoreboard
Purple Cows Guillotine
Tim Holtz Blender
Sizzix Bigshot
Nestabilities Large Ovals
Tim Holtz Blender
Printer
Materials
Image -
Dragons Lair Designs
DP - Jak Heath
Flock - Papermainia
White Gel Pen
Distress Ink
Card Candy - Craftwork Cards
I'd like to enter this card into the following challenges:
Crafty Emmas
- Baby Bonanza
Sweet Stampin
- Stitching
The Secret Crafter
- Anything goes
The Corrosive Challenge
- Clean up the dust (flocking)
Cowgirl's Sunday
- Hip Not to be Square
Stamp with Fun
- Stuffed Animals
Top Tip Tuesday
- Top Tip - print directly onto card base
Papertake Weekly
- Animal Magic
Pollycraft Monday
- Cute & Cuddly
Anything Goes
- Cute
Digital Tuesday
- It's all about the girls
Freshly Brewed
- Paper Piecing
Sarah Hurley
- Polka Dots & Circles
Penny's Paper-Crafty
- Anything Baby
Charisma Cards
- Anything goes
A Spoonful of Sugar
- Anything goes
Crafty Catz
- Stitching
Papercutz
- Critter