I'm really enjoying making different card shapes and styles. I watched Create & Craft the other day and saw some fab card bases but nearly fainted at the price! So I decided that Google would be my friend for the day and that I'd see if I could find an idiots how to guide! Well as you can see I was sucessful and found
this
fab tutorial. I initially made the card using basic A4 cardstock, but then decided that the card wasn't quite big enough for my purpose, and as I didn't want to use my lovely 12 x 12 card to make a 6" square card that I'd either have to go shopping or come up with an alternative plan.
After thinking about it and studying the card, I thought that maybe I could use a 6" x 6" premade card base. Guess what? It worked! So I have one fab card base made in less than 2 minutes - result!
As usual I spent ages faffing around trying to decide on my layout. Finally I decided that I'd try and follow this sketch:
As you can hopefully see, I have rotated and shrunk the image. The card looks a bit wonky in picture, it's not, it's just my bad photgraphy! Also, I'm still struggling to find the best way to use flowers on my cards, but I hope this works. Any hints or tips will be gratefully received.
Anyway, far too much waffling from me, so here it is, my cheats Diamond Spring Card: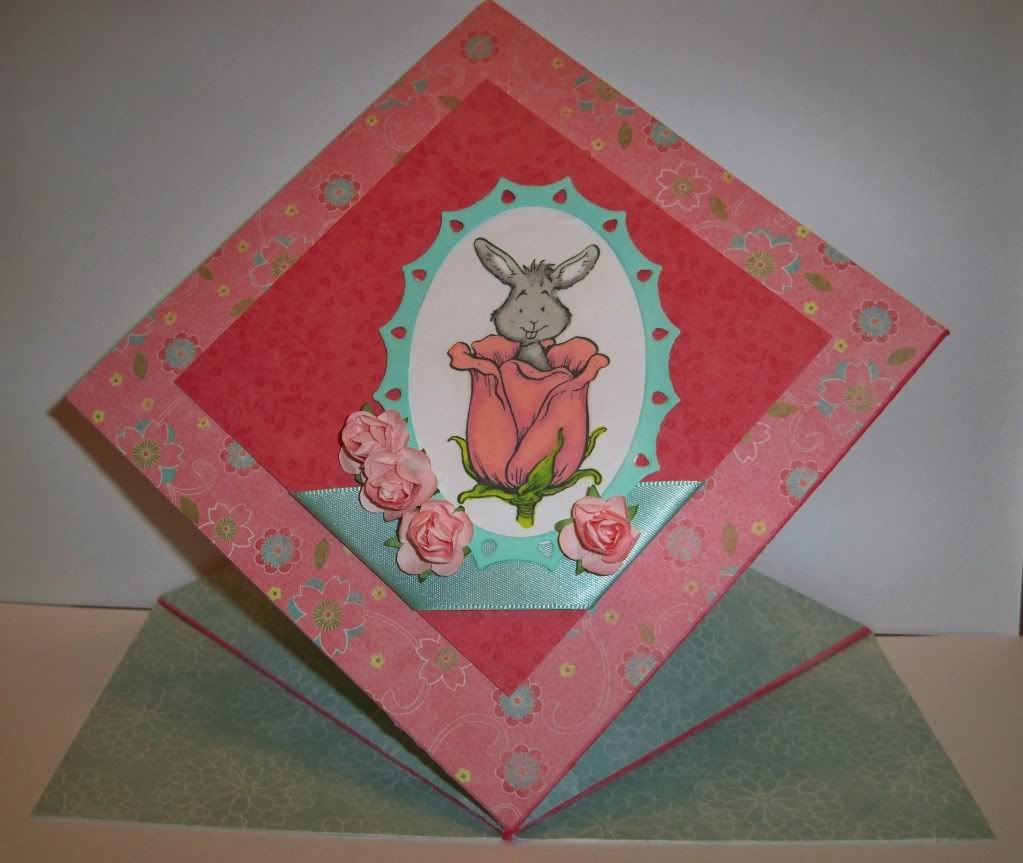 Materials:
Image - Simply Cards & Papercraft freebie, coloured using Promakers
Frame - White cardstock coloured with Promarkers, die cut with Nellie Snellen MFD003
Papers - MME freebie
Flowers - from stash
Ribbon - from stash coloured with Promarkers
I'd like to enter this into the following challenges:
Inspirational Card Sketches
Passion for Promarkers
Crafty Cardmakers
Cute Card Thursday
Creative Card World