My new Sweetpea stamps arrived the other day and I couldn't wait to start inking them up.Unfortunately, I had to be selective as to which ones I used, as I ran out of mounting foam! In the end I choose this stamp because it's DD's birthday in a few days and I think she will love this image and the papers I've chosen. My one regret is making it into an easel card - I think it would've been better as an ordinary card.
I was really worried about colouring these stamps and think in hindsight that I should've chosen one of the less detailed ones to colour! But hey, it wouldn't be me if I wasn't trying to run before I could walk!! LOL. The image I've used on this card is my fourth (yes you're reading right) attempt - the others all ended up in the bin as they were totally unsalvageable. I struggled with the hair and the background on this stamp, but was determined to produce something half decent, so carried on. I'm just glad the kids were at school otherwise I think they may have expanded their vocabulary somewhat! Anyway, here it is.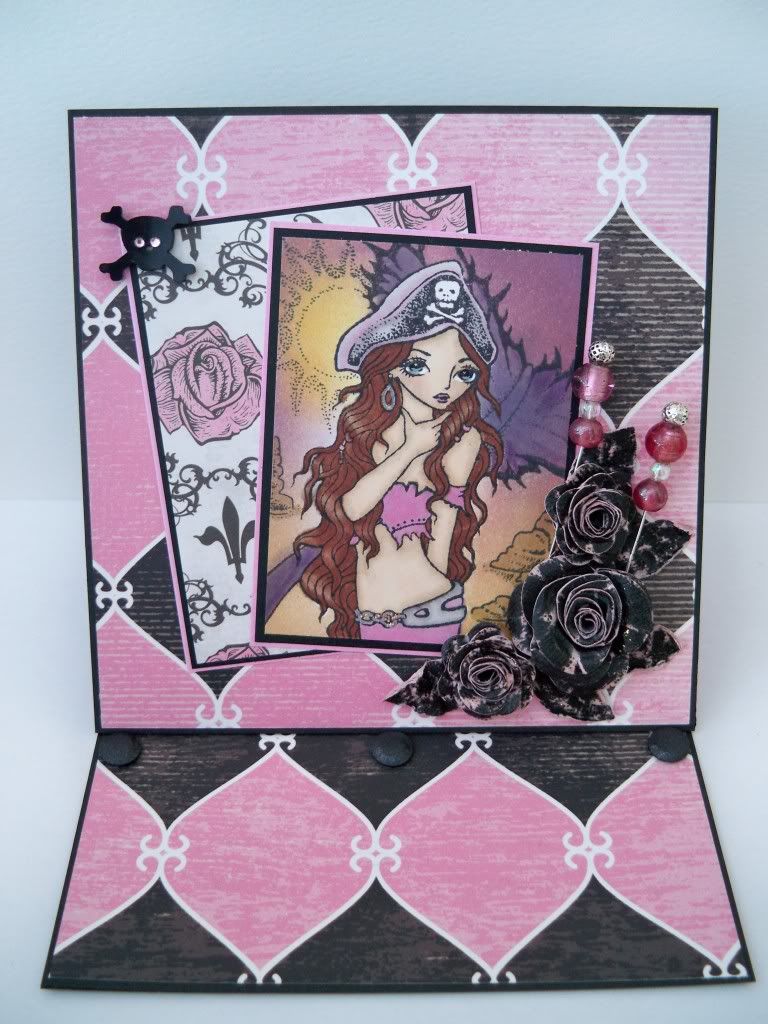 I stamped image onto cardstock and then created a mask. Once the mask was securely in place I created the background using distress inks. I sponged the sun and palm tree and then blended over the top - in future I will just colour the tree with Promarkers. I then removed the mask and coloured the image using Promarkers.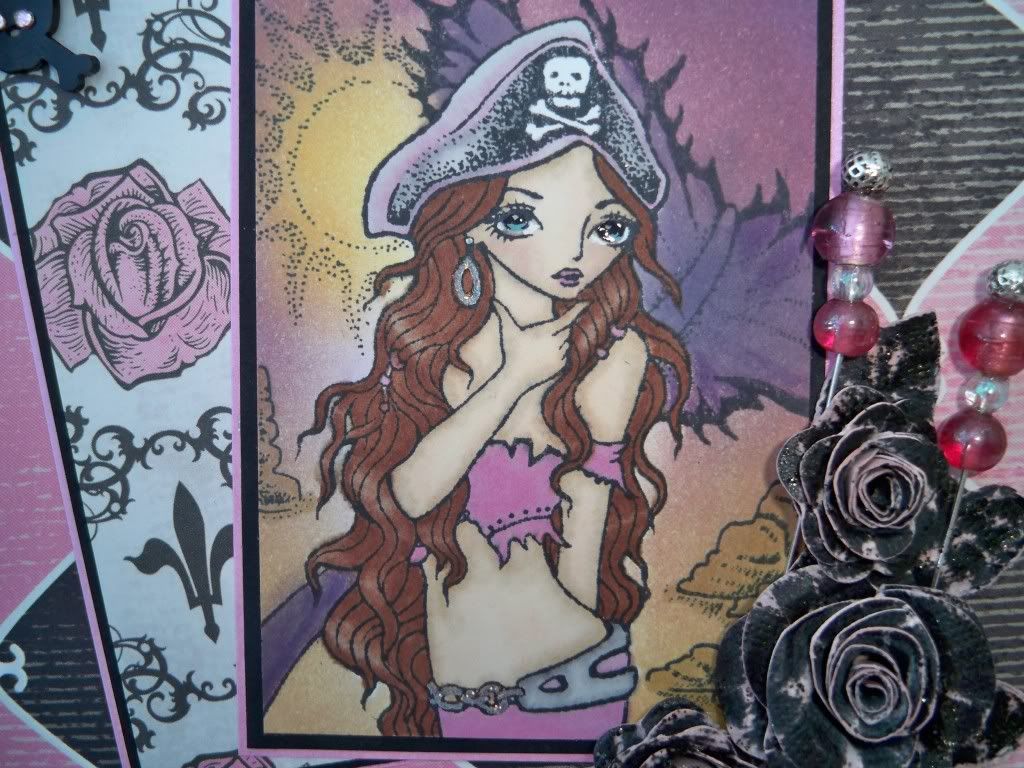 My picture really doesn't show it, but, stickles have been added to her belt and earrings, and her eyes have been accented with Glossy Accents.
The roses have been made using the Sizzix 3D flowers die, I've then distressed the die cut and covered it in stickles. The hatpins were handmade and the skull embellishment has been made from shrink plastic.
Tools
Sizzix Bigshot
Sizzix 3D Flower Die
Sizzix Pirate Set
Tim Holtz Blender
Cosmetic Sponge
Materials
DP's - Pirate Princess, Rusty Pickle
Core-dinations - Black Magic
Pink Shimmer Card - from stash
Tim Holtz Distress Inks - Scattered Straw, Victorian Velvet, Spun Sugar, Dusty Concord
Promarkers - Ivory, Satin, Blush, Sandstone, Henna, Rose Pink, Silver, Cool Grey 1 & 4, Burnt Sienna
Glossy Accents
Stickles - Black Soot & Diamond
Beads - from stash
Headpins - from eBay
Shrink Plastic - from stash
Pink Gems - from eBay
I'd like to enter this into the following challenges:
Cowgirl's Sunday Challenge
- Sketch
Passion for Promarkers
- Distressing
YNS
- Easel Card
Crafty Cardmakers
- Easel
Paper Sundaes
- Make your own flowers
Meljens
Designs
- Easel
Digi Doodles
- Anything goes
Craftalicious
- Birthdays
Shelley's Images
- Birthdays
Sweetpea Stampers
- Black, White & One Other Colour (hoping that skin/hair accents are allowed).
The Stampman
- Anything goes