Ok not much happening on the craft front due to having the kids and DH at home. The best I've managed this week is to cut out the art deco wrapping paper in readiness for a decoupage project I have mind. Oh and to make an oragami butterfly.
However, as DD decided yesterday that she needed a new pair of boots, we all ventured into town. Didn't intend buying anything else (honest), but ended up coming home laden with goodies! I won't bore you with all the details, but in summary here are my best bargains which came from Claire's Accessories who had started their 5 items for £5 sale:
5 Shoe Jewellery Stands (were £10 each)
2 Wooden Jewellery Boxes (were £14 each)
2 Umbrellas (were £10 each)
1 Diamonte Jewellery Set (was £14)
So £112 worth of goodies for £10.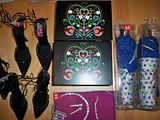 I think I'm going to decoupage one of the boxes using the art deco paper - watch this space!!!
Also, when we got home my BIGSHOT had arrived. So will be playing with that at somepoint this weekend.