It's DS birthday next week and he'll be a whole nine years old! When your nine character cards are just not cool (apparently)!! So, I've had to get my thinking cap on for this one! Please accept my apologies for the poor photographs in this post, but the card was a nightmare to photograph!
I came across some Sugar Nellie Skull Boyz stamps, which as he's really into JD Bugging and Skateboarding at the moment, seemed ideal. Much to my surprise he's also desperate for personalised items (we were in a shop and he got really cross that there were no items with his name on), so I thought I'd try and incorporate his name into the card. I'd also seen instructions for a concertina card in Papercraft Inspirations magazine that I wanted to try.
Anyway, this is what I've come up with, I really hope he likes it.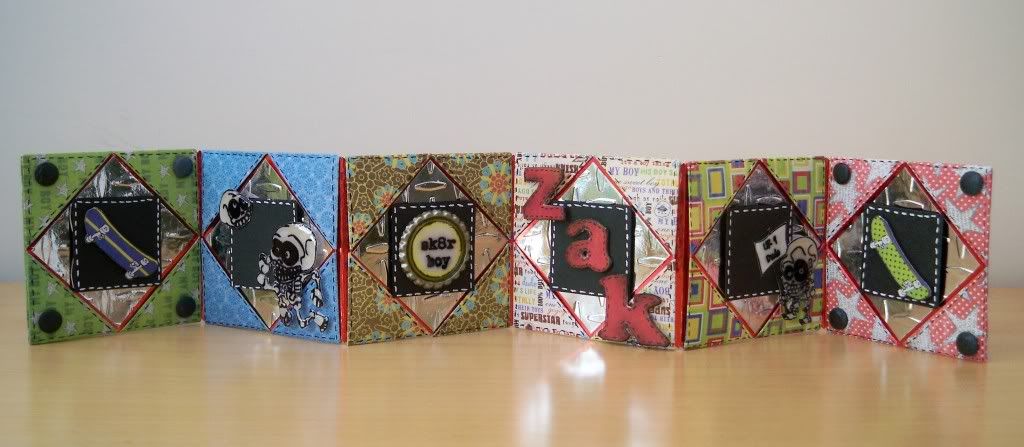 The opened card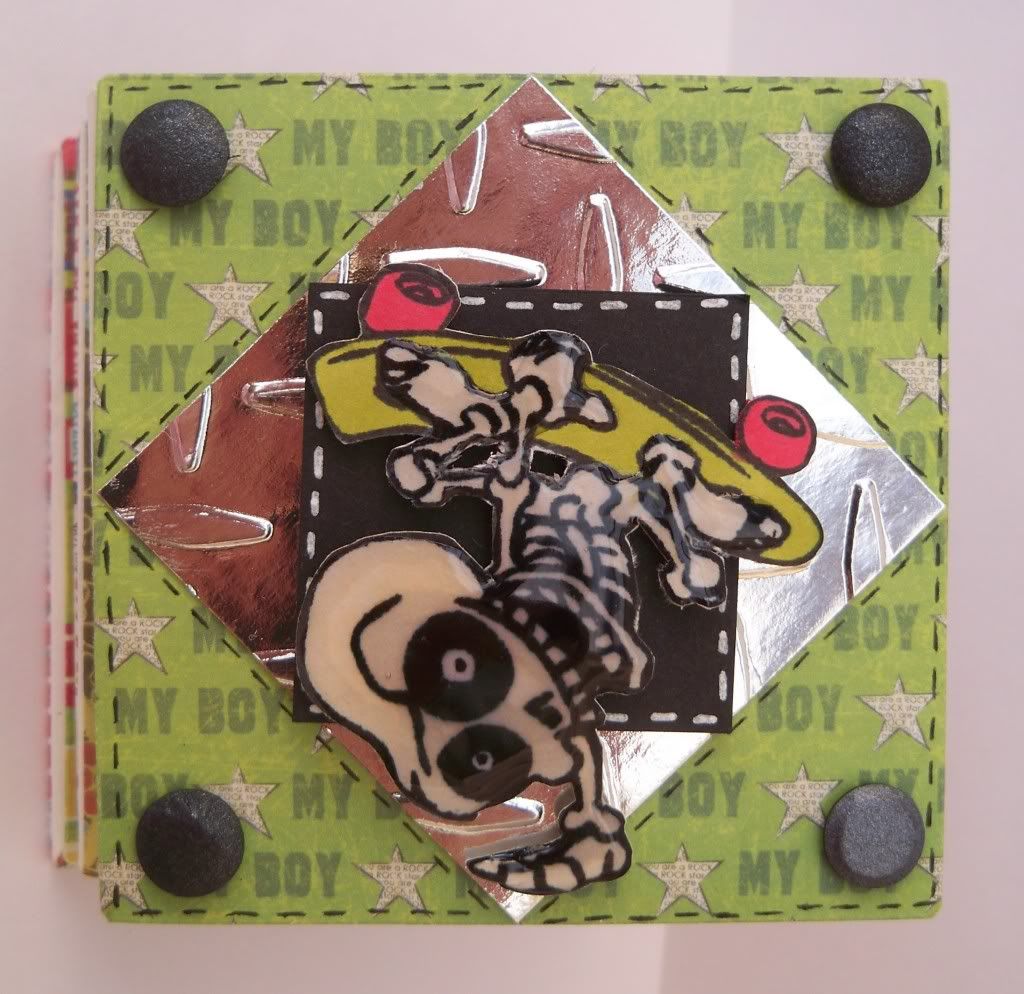 The front of the card when closed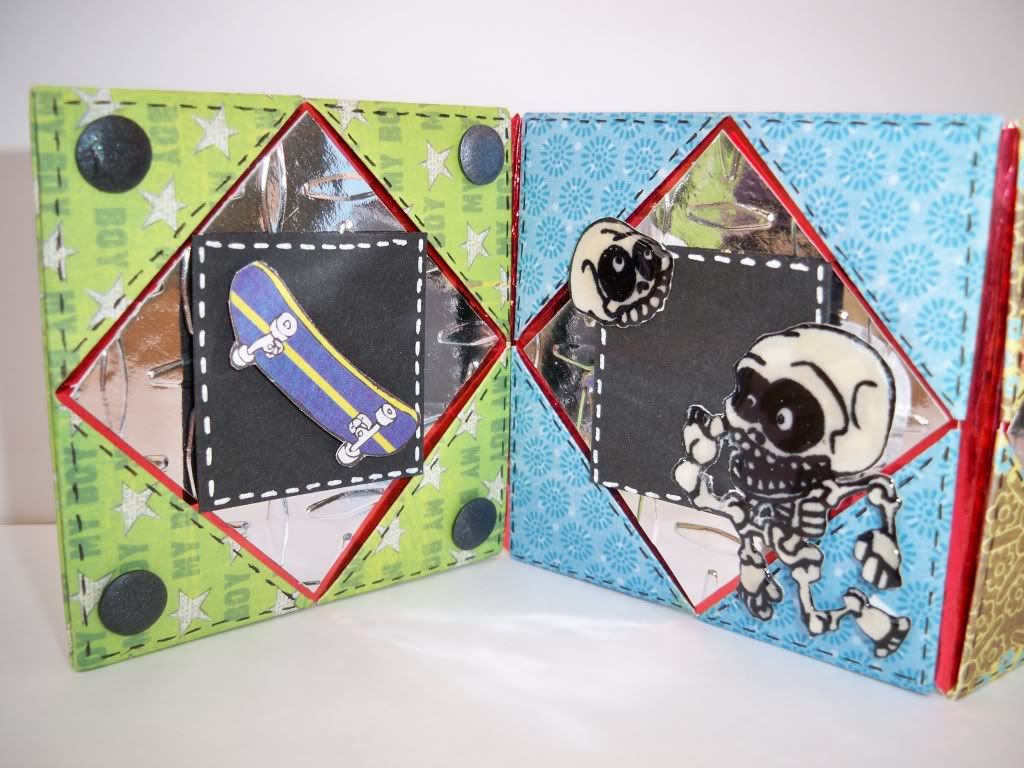 close up 1
Close up 2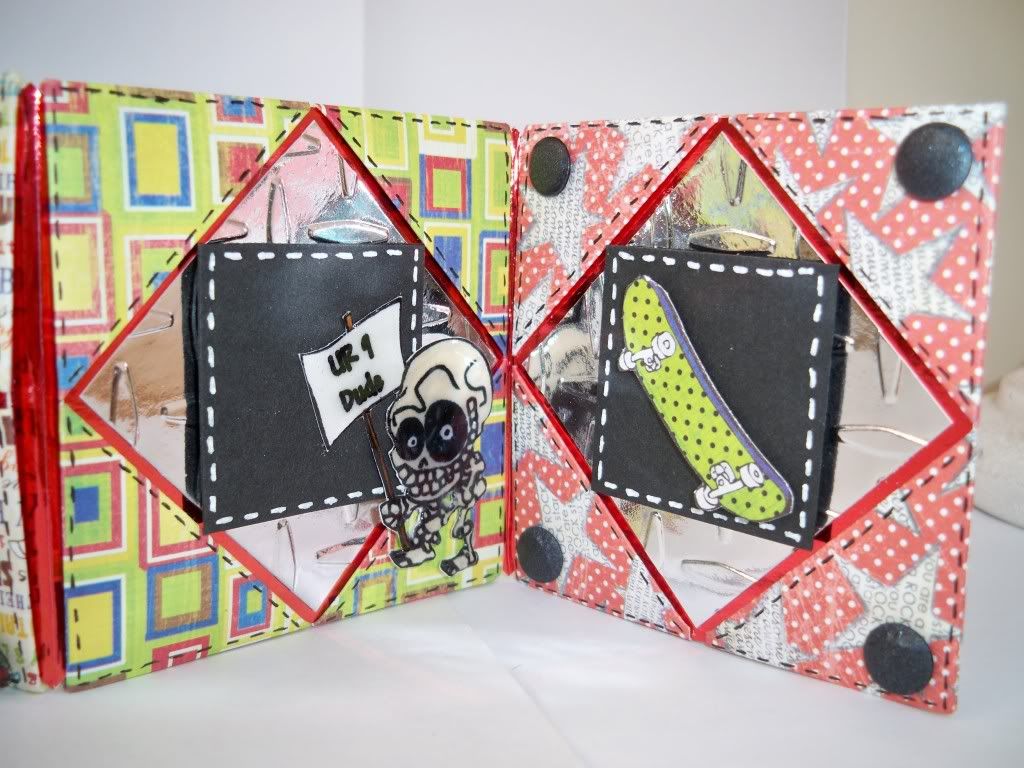 Close up 3
The card base is made from DP's that are folded to make frames. I've then inserted mirror board into the frame to give it some rigidity. The card has then been decorated with a number of images and embellishments. The card measures 3" x 3" when folded.
Tools
Sizzix Bigshot
Cuttlebug Diamond Grid Embossing Folder
Martha Stewart Scoreboard
Purple Cows Guillotine
Materials
Papers - Prima My Guy
Mirror Board - Anitas
Images - Sugar Nellie
Woodware Chipboard Alphabet
Bottle Cap - Wilkinsons
Promarkers
Glossy Accents
Card Candy - Craftwork Cards
I'd like to enter this card into the following challenges:
C.R.A.F.T
- Milestones/Birthdays
City Crafter
- I see stars
Totally Stampalicious
- Texture
Cupcake Craft Challenges
- Blue & Green
The Corrosive Challenge
- For the Guys
Cards for Men
- Decoupage
Crafty Cardmakers
- Video Inspiration (diamond grid, black and Red Rockstar paper)
Donna's Den of Craft
- Decoupage
Creative Craft
- Transport (Skateboard)
Lexi's Creations
- Emboss It
Meljens
- Happy Birthday
Paper Cutz
- use some metal (the bottlecap embellishment)
Crazy 4 Challenges
- Lattice (silver embossed diamond grid/lattice pattern)
Pixie Dust Studio
- Stitch it Up
Sew Many Challenges
- Happy Birthday
Allsorts
- Less than 3" (the card when folded up measures 3" x 3")
CES Challenge
- Anything goes