It's my friends' DD 1st Birthday this weekend and I wanted to make her a cute girly card. I decided to try out a tent card - it was a lot easier than I thought it would be, so I'd guess that I will be making a few more of these.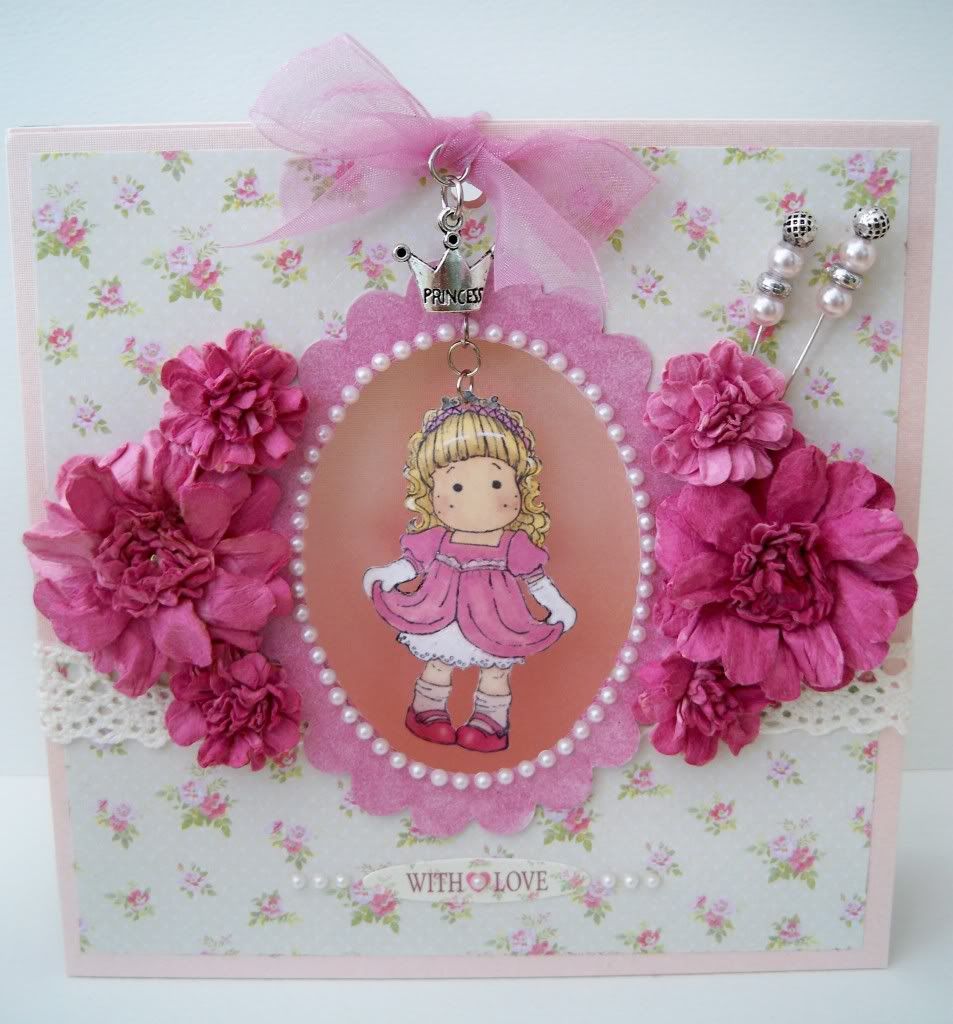 I made the card using
this
tutorial. Tilda has been coloured with Promarkers and I've used Glossy Accents on her shoes and 3D glitter glue on her tiara and the lace trim on her dress. The gloves and petticoat were coloured with a white gel pen. The flowers were handmade and have been coloured with Promarkers. The hatpins were made using my new pins from China and a selection of beads taken from necklaces and bracelets picked up in the Primark sale.
Unfortunately, the pearlescent pink card wasn't double sided. As I wanted to decorate the back of the card and the inside was also going to be on show, I had to use a double layer of card. Hopefully it doesn't look too bulky.
Materials
Pink Pearlescent Cardstock
Ivory Pearlescent Cardstock
Papermainia Rose Garden
Magnolia Tilda Princess Stamp
Jump Rings
Flowers
Princess Charm
Glossy Accents
Glitter Glue
Promarkers
White Gel Pen
Pearls
Ribbon
Tools
Bigshot
Spellbinders Nestabilites - Large Ovals and Scallops
Pliers
Martha Stewart Scoreboard
Xyron Sticker Machine
I'd like to enter this card into the following challenges:
Charisma Cards
- 3D
Simon Says Stamp
- Tent card & charms
Pixie Dust Studio Pixie Challenge
- Add a pearl
C.R.A.F.T Challenge
- Celebrate/Birthdays
A Spoonful of Sugar
- Cute & Girly
Papertake Weekly
- Say it with flowers
Sew Many Challenges
- Anything goes
Die Cut Dreams
- Lace it up
Cupcake Craft Challenge
- Blooms & Charms
I
♥
Promarkers
- Make Your Own Flowers
Crafty Cardmakers
- Inside Out