I've had a hetic, but productive weekend. My friend and I went to the Brighton Creative Stitches and Hobbycrafts Show on Friday. Did we have fun? You bet!! Wasn't sure what to expect, but was exceptionally pleased to discover a wealth of goodies to buy and few new hobbies for me try (like I need anymore)! I also got given a free ticket to return on Sunday, so return I did and dragged DH along with his wallet ;0)
At the show there was a lovely lady running a jewellery making workshop which I decided to join in with. I had loads of fun making this: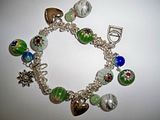 I managed to resist buying a start up jewellery making kit and lots of lovely beads, but it's definately on my list of things to purchase at somepoint in the future.
I didn't manage to avoid jewellery making kits altogether though! I found a stall selling kits to make these: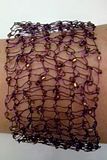 Initially, I thought they were selling the bracelets, but upon further investigation I discovered they were selling kits to make them. Needless to say I had to have one, but can justify it fully as it is going to be a present for my Sister-in-Law! So Saturday evening was spent making up the bracelet. On Sunday, I ended up buying more wire and beads to make my own designs, so watch this space.
I also bought some Promarkers following the rave reviews that the "card making lovely's from MSE" give them. Have to say I'm really pleased with them and as a result have now printed out a few digi stamps and will be attempting to make some cards in the very near future. Somehow, some Papermania Watercolour Markers managed to find their way home with me too - boy was that demonstrator good! Seriously though they are fabulous and give me a totally different effect to the Promarkers.
Well I think that's enough of my waffling for now.....I've actually run out of things to say!